Live your best life in style.
Custom-built homes with superior style and quality.
C.A. McCarty Construction (CAMC) is a design/build firm that specializes in custom residential construction. We serve as the single point of coordination for design, budget, and construction.
C.A. McCarty Construction was named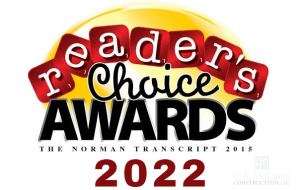 BEST Construction Company and BEST Home Builder
We build custom homes in Norman, OK as well as the greater metro Oklahoma City area.  Each home we build is truly unique.  We work with each client to develop plans that fit their needs, lifestyle, and budget.
Building with expertise, Curtis McCarty is one of the few home builders in Oklahoma to carry the Nationally Certified Green Home Builder AND Certified Professional Builder designation. The Certified Professional Builder designation requires high quality and standards as well as continuing education for homebuilding practices.
Built for Oklahoma Weather.  Curtis is a regional expert on High-Wind Construction for new homes. CAMC was the first home builder in Oklahoma to implement high wind construction practices in the base of a home.
McCarty continually strives to incorporate new and innovative energy efficient  solutions in his homes. Read The Norman Transcript's article on a CAMC energy efficient home in Norman, OK.
C.A. McCarty Construction aims to make your home building experience positive and exciting.
This error message is only visible to WordPress admins
Error: No feed with the ID 2 found.
Please go to the Instagram Feed settings page to create a feed.
Choosing C.A. McCarty Construction to build our new home was the best decision we ever made. We had a wonderful experience building our home with Curtis McCarty. He is a very professional, knowledgeable builder and had many innovative ideas for our 'dream home'
"From the beginning, we have wanted to create a house that is unique in our own, plain way, but still quite spectacular... You have been a tremendous help to achieving this goal... your vision and ideas for the cabinets, trim and many 'little things' we never even thought of make a big impact on the house. We are really going to love living there. Thanks for being a great partner in this!
We found Curtis to be trustworthy and sincere in all he did. We had very high expectations of our home, and we are proud to say that he exceeded all of those expectations. He built the home of our dreams, and we would definitely recommend Curtis to anyone wanting a beautiful, well-built home.
Ask your builder these 5 Questions to ensure your home is tornado and high-wind resistant.