BUILDING CUSTOM HOMES with SUPERIOR STYLE
C.A. McCarty Construction is a design/build firm that specializes in custom residential construction in Oklahoma. We serve as the single point of coordination for design, budget, and construction plans to achieve clients' wishes. Curtis McCarty is one of the few homebuilders in Oklahoma to carry the designation of Nationally Certified Green Home Builder AND Certified Professional Builder. The designation of Certified Professional Builder demands high quality & high standards and requires continuing education to stay current with homebuilding practices. Curtis is a regional expert on High-Wind Construction for new homes. C.A. McCarty Construction was also the first home builder in Oklahoma to institute high-wind construction practices within the base of a home.
McCarty continually strives to lead the pack in innovative, energy-efficient home solutions. Read The Norman Transcript's article on one of C.A. McCarty Construction's energy efficient homes in Norman.
C.A. McCarty Construction aims to make your home building experience both positive and exciting.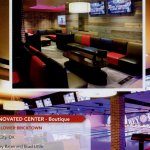 We are proud to announce C.A. McCarty Construction was a part of the team to win "Best Renovated Center – Boutique" for construction on HeyDay in the lower Bricktown district in Oklahoma City. November, 2017 – 33rd Annual Architecture & Design Awards, Bowlers Journal International. Read more.