What is a 'Certified Green Professional' Builder?
Curtis McCarty is one of the few home builders in Oklahoma to have earned the designation of Certified Green Professional Builder as well as Certified Professional Builder.The Certified Green Professional™ designation recognizes builders who incorporate green building principles into homes— without driving up the cost of construction. The designation is awarded after 24 hours of approved training from the National Association of Home Builders as well as continuing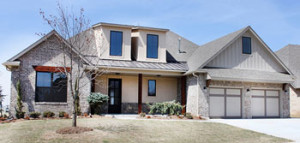 education every two years.
Approved Certified Green Professionals are trained in topics such as how green homes provide lower energy costs and how  incorporating green-building principles is possible without driving up construction costs. The designation also requires completion of the Green Building for Building Professionals two-day course and either the Business Management for Building Professionals one-day course or

having another current NAHB professional designation. The Green Builder Certification is awarded only to individuals, not companies, specific homes or projects.